Advanced Interior Restoration & Upholstery
Considering Upholstery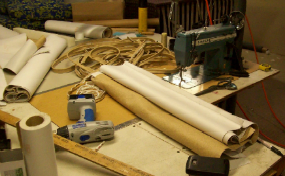 Is it an upholstered item with a quality built frame? Does the frame style work
and fit in the room? Is it comfortable? Is there a sentimental or keepsake value?
The budget for upholstery labor, fabric yardage, and new foam if needed. Is it a
flip or a keeper? Kids and pets? Is there a need for high seating traffic for fabrics?
Fabric selection can be a challenge... as many fabric samples as stars at night.
Fabric savvy upholstery experts can help in the selection of
upholstery fabrics
...

Residential Furniture Upholstery

Custom Furniture Upholstery

Commercial Upholstery

Benches, Booths and Banquettes



Contract Workroom Services

30 Years of Interior Designer Services
Hours: Monday - Friday 9-5 A.I.R. Upholstery LLC Black Forest, CO 80908 (719) 495-0509
airupholstery.com Directory


Location and Information


We're now located in the Black Forest, just North of Colorado Springs, CO 80908. Phone:
(719) 495-0509
Call for Address and Directions.
Our website is designed to save you time and money. If you have an upholstery project, you can
email
photos and dimensions, give us an opportunity
to quote an estimated labor price and required fabric yardage. We have a selection of upholstery fabric sample books, or we're happy to direct you to
fabric stores to shop for your own fabric (COM), or we'll meet you down at the design center or fabric store, and do some fabric shopping together.
Workmanship Guarantee


Our custom workmanship is guaranteed for one full year. Includes seams, trim application, new foam and fabric fit for furniture, includes boat seats and
cushions and covers, automotive seats, headliners, door panels, side walls, and carpet installation.
Privacy Policy


A.I.R. Upholstery LLC
is committed to your privacy. and information is protected and secured. We'll NEVER sell, distribute or lease your information.
Terms and Conditions
The content of the pages within this website is for general information and use only, and is subject to change without notice. This website contains material which is owned or
licensed to
A.I.R. Upholstery, LLC, Advanced Interior Restoration and Upholstery, airupholstery.com
,
pjedirect.com and
projunction.net
. Design and appearance,
graphics and images are included, but not limited to materials contained within. Reproduction is prohibited, other than in accordance with copyright notice.
Unauthorized use are subject to a claim for damages. Trademarks used or reproduced which are not the property of, or licensed to are acknowledged by (™).
Disclaimer
The information contained within
airupholstery.com, pjedirect.com and projunction.net
is for general information purposes only. The information is provided
by, and is copyright of
©
AIR Upholstery.com, Advanced Interior Restoration and Upholstery 2011.
All Rights Reserved.
A.I.R. Upholstery
Advanced Interior Restoration and Upholstery
(719) 495-0509